Paroo-Darling National Park
Corner Country, Outback Australia
Paroo-Darling National Park is an ancient world of red sandhills on the Darling River floodplain. The only unregulated section of the Murray Darling Basin, the ephemeral Paroo River, sustains a diverse ecosystem when it flows; and will only flow into the Darling River during very high flows.
Accommodation - Warrawong on the Darling
Warrawong on the Darling allows you to experience the real Australian Outback in comfort. With an abundance of wildlife and unspoiled tranquillity, simply sit and watch the amazing variety of birds and the ever-changing colours of the sunsets.
Take day trips to White Cliffs, Tilpa, Louth, Paroo Darling National Park, Menindee, and the Menindee Lakes, Broken Hill, and the historic river port of Wilcannia – the rough diamond gem of the Outback.
Discover Warrawong Station
The Paroo-Darling National park is divided into two separate sections; the northern section is northeast of White Cliffs, while the southern section (Wilga Station) straddles the Darling River upstream of Wilcannia.
The park embraces a rich, living Aboriginal heritage spanning many thousands of years, allowing you to view artefacts such as stone tools, hearth sites and scar trees.
Accommodation - White Cliffs Hotel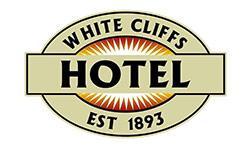 White Cliffs is one of the most unique outback towns in Australia. The Opal Mining boom in the 1880s gave birth to this isolated township in "the middle of nowhere". It is a must see!.
Relax at the White Cliffs Hotel, where you can meet and mingle with visitors & locals alike. Prop your elbow on the bar & wash the dust away with a refreshing ale. Swap yarns about the day, enjoy a hearty pub meal and watch the sunset over another glorious outback day.
Discover the White Cliffs Hotel
Paroo-Darling National Park Visitor Information:
Paroo-Darling See & Do...

Paroo-Darling Visitor Centre
White Cliffs
Peery Lake
Coaches & Horses Camp Ground

Paroo-Darling Information Centre:

Park Office (Broken Hill): 183 Argent Street, Broken Hill, NSW
Telephone 08 80913308