Darling River Run - Best Route/14 Day Itinerary
Downloaded: 35890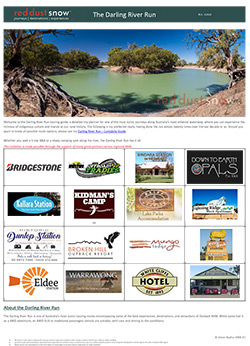 Are you looking for a map/guide for the best way to tour the Darling River?
Not sure which side of the river to travel along? Check out my Complete Guide to the Darling River Run.
Well, look no further as I share with you over a decade's experience photographing, traveling, and writing out our most iconic river.
For the first-timer, the best way to plan your trip along one of Australia's most iconic waterway is to download the 'Best Route - 14 Day Itinerary" below for a complete guide.
For the returning traveler looking for a bit more of a DIY touring route, I suggest the "Complete Guide - All Options".
Either guide will expose you to the richness of indigenous culture, marvelous pastoral history, and some of Darling River accommodation options.
Along the way, you can learn about pastoral pioneers and their 'life on the land' by visiting any of the many farm-stays of the region of Outback NSW or experiences the layback nature and country hospitality of the iconic outback towns along the river.
*** Safe Outback Travel ***
Before heading out to the outback, for the safety of you and fellow travellers (and as a courtesy to those living in the outback), please to the Safe Outback Travel for tips and hints to get the most out of your next adventure.