Details

Copyright ©

Simon Bayliss

2008-21
Visitors: 9454
Darling River Run
The Corner Country Loop
Bourke <> Tibooburra <> Milparinka <> Broken Hill
The Darling River Run's largest side-trip takes in the western-most part of outback New South Wales, the Corner Country, and is a great option to avoid backtracking along the upper Darling River; with the added benefit of experiencing a few of the most iconic destinations of the outback, namely, Cameron Corner, Tibooburra, and Milparinka.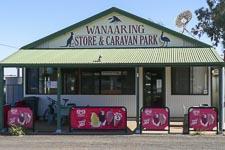 Wanaaring Store and Caravan Park, right on the Paroo River, a tributary of the Darling River, Life is too short to stay in one place....so come and visit the outback!
If heading downstream on the Darling River Run, and don't want to backtrack, the Corner Loop links Menindee and Broken Hill north to Tibooburra then east to Bourke (via Wanaaring). (or vice versa if doing the Darling River Run upstream).
The Corner Country is the area in the far north-west of New South Wales, bound by the Queensland border to the north and the South Australian border to the west; the borders meet at Cameron Corner (aka Camerons Corner).
More on Cameron Corner (The Corner Country)
Within the Corner Country, iconic outback experiences await, with towns like Milparinka and Tibooburra that share a heritage of early explorers like Charles Sturt, (1845) and the short-lived gold rush of the late 1870s.
Ephemeral creeks and lakes are interspersed amongst the Barrier and Grey Ranges, and dunes of the Simpson-Strzelecki Dunefields. At the same time, sandstone mesas rise from ancient sea-beds.
The iconic outback townships of Milparinka, Tibooburra and Wanaaring of the Corner Country each have their measure of character, characters and history.
The Silver City Highway (Broken Hill to Tibooburra) is now sealed. The route between Tibooburra and Bourke (via Wanaaring) is unsealed in places but is being progressively updated with bitumen.
For the more adventurous, there are two great off-bitumen routes linking Broken Hill to Tibooburra:
---
>> For more on exploring the Corner Country of Australia, see The Corner Explorer
** NOTE: Part of this tour is on dry-weather roads.**
At 750km's it is an adventure in itself and can also include Watershed Loop which takes in the opal town of White Cliffs.
The Route:
Broken Hill <> Tibooburra: Distance = 335 km - about 3 hours 50 mins
Route: Silver City Highway (Dry weather road)
Tibooburra<> Bourke: Distance = 417 km - about 5 hours
Route: The Cut Line (Dry Weather road)
---
*** Safe Outback Travel ***
Before heading out to the outback, for the safety of you and fellow travellers (and as a courtesy to those living in the outback), please to the Safe Outback Travel for tips and hints to get the most out of your next adventure.