Details

Copyright ©

Simon Bayliss

2008-21
Visitors: 17922
Wanaaring, Outback NSW
Corner Country, Outback Australia
On the banks on the Paroo River, 240 kilometres to the east of Tibooburra, and 195 kilometres north-west of the Darling River township of Bourke, is the village of Wanaaring. Established in the 1880s, the town provided services to the large sheep properties of the time. Once, wool scouring, or wool washing, was carried out on the banks of the river. Long gone, reminders of those times can be found among the memorabilia on the river banks.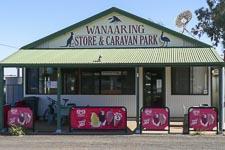 Wanaaring Store and Caravan Park, right on the Paroo River, a tributary of the Darling River, Life is too short to stay in one place....so come and visit the outback!
Today, the township today provides services to the outlying station properties, and to the travellers passing this way, to or from the Corner Country.
Wanaaring See & Do...
Fish for yellow belly
Cast a net for yabbies
Play golf with the locals
Take a tour of a bee farm, and take home some honey
Explore the historic Cemetery
Visit the RFDS Clinic
Walk along the Paroo River
*** Safe Outback Travel ***
Before heading out to the outback, for the safety of you and fellow travellers (and as a courtesy to those living in the outback), please to the Safe Outback Travel for tips and hints to get the most out of your next adventure.