We are adding Corner Country content!

We are expanding our regions to include the Corner Country, awesome news, and while we work in the site this weekend there may be some minor gremlins.
Sorry for any inconvenience.
Details

Copyright © Simon Bayliss 2008-20

Simon Bayliss

Last Updated: 12 February 2020

12 February 2020

Visitors: 10067

10067
White Cliffs, Outback NSW
Corner Country, Outback Australia
White Cliffs is a truly unique outback experience. Like silence? Tired of the bright lights and noises of the city and want a peaceful night's sleep under a million brilliant stars? White Cliffs has that for a truly restful night and plenty to explore during the day.
White Cliffs is Australia's oldest (seam) opal field and developed from a chance finding of opal in the 1880s by a group of kangaroo hunters, and the opal rush began.
There are four significant opal mining settlements in Australia. Coober Pedy (popular with backpackers and tourists because of its closeness to the Stuart Highway), Andamooka (still like the Wild West), Lightning Ridge (quite sophisticated and suburban) and White Cliffs, which seems to have just the right balance between wildness and civilisation.
Of course to outsiders all opal mining towns, where miners dig endless holes looking for seams of opal-bearing rocks, possess a certain level of craziness. 'The largest unfenced loony bin in Australia,' is how one person in Broken Hill described the town.
Accommodation - White Cliffs Hotel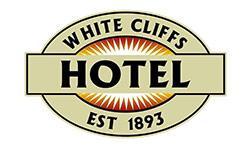 White Cliffs is one of the most unique outback towns in Australia. The Opal Mining boom in the 1880s gave birth to this isolated township in "the middle of nowhere". It is a must see!.
Relax at the White Cliffs Hotel, where you can meet and mingle with visitors & locals alike. Prop your elbow on the bar & wash the dust away with a refreshing ale. Swap yarns about the day, enjoy a hearty pub meal and watch the sunset over another glorious outback day.
Discover the White Cliffs Hotel
---
---