Details

Copyright ©

Simon Bayliss

2008-21
Visitors: 17313
Wilcannia, NSW
Darling River Towns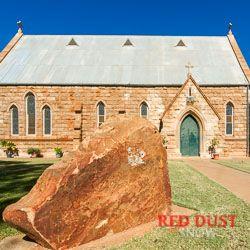 Wilcannia, the Darling River town on the Barrier Highway between Cobar and Broken Hill, is a largely undisturbed port on the Darling River. Cross the bridge driving from Sydney to Broken Hill and turn either to your right or left when you enter the town and you will be amazed at the richness of the architecture.
About one hours drive (sealed) north of Wilcannia is the opal town of White Cliffs. Well worth a visit!
Being at the junction of the major east-west highway and the iconic 'Long Paddock' (The Cobb Highway which runs down to Echuca-Moama on the Murray River), it is a great access point for the Darling River Run. Upstream from Wilcannia is Tilpa and downstream is Menindee and the Menindee Lakes.
It is easy to see that Wilcannia was once a very important Outback NSW town and Darling Riverport and the remnants of a once-important inland port are evident. Some of the town's historic treasures include the National Trust classified old centre-lift bridge (1896), the beautiful 1880 post office, the Athenaeum Library (1883) and the impressive courthouse (1880), police station (1881), and the police residence (1880), which were all built of locally quarried sandstone and designed by James Barnet.
Wilcannia is located 965 km northwest of Sydney via the Great Western, Mitchell and Barrier Highways. It is on the very edge of the New South Wales desert experiencing only 252 mm of rainfall per annum, and much of that rain will fall in violent, if short, desert storms
Warrawong on the Darling allows you to experience the real Australian Outback in comfort. With an abundance of wildlife and unspoiled tranquillity, simply sit and watch the amazing variety of birds and the ever-changing colours of the sunsets.
Wilcannia Visitor Information:
Wilcannia See & Do:

Paroo-Darling National Park
Darling River

Getting to Wilcannia (Car):

From Brisbane: 1,250km
From Sydney: 950km
From Melbourne: 815km
From Adelaide: 715km

Wilcannia Information Centre:

Reid Street, Wilcannia NSW 2836
Telephone: 08 8083 8910
---
*** Safe Outback Travel ***
Before heading out to the outback, for the safety of you and fellow travellers (and as a courtesy to those living in the outback), please to the Safe Outback Travel for tips and hints to get the most out of your next adventure.